Our Kakadu Tours & Beyond explore Litchfield, Kakadu & Katherine Gorge in one tour
The Top End's iconic National Parks are remote challenging destinations with rich and diverse cultural and natural landscapes. We are a local family owned operator with a long and deep connection to these landscapes that require strong local knowledge to ensure you fully connect with country.
Charter North 4WD Kakadu Tours & Beyond are professionally designed private tours for up to six travellers, led by some of the most experienced and seasoned industry guides. Combining hiking, swimming, boat cruising and canoeing with unique overnight stays, our guided expeditions ensure you connect with country and have an enriched experience. Our tours around Australia's "Top End" allow you to experience all of the iconic features of our beautiful tropical landscapes. Our intimate understanding of Kakadu, Arnhem Land, Litchfield, Katherine Gorge/ Nitmiluk and local environments, along with careful consideration to timing ensure you are in the right place at the right time to maximise your experience.
You will find our pricing is surprisingly comparable with larger bus tours that don't compare in quality. We operate our entire business and personally guide our tours
Please scroll down to start your Kakadu Adventure
Our Kakadu Tours & Beyond
Our Top End 4WD Adventures include:
When you tour with us your adventure begins immediately
The boundaries of Kakadu and Arnhem Land are defined by lines on a map, however the diversity of our Tropical North quickly becomes evident as we embark on our travel. You will soon realise you have entered a very different landscape that rivals International destinations:
Teaming with bird life
Wildlife, birdlife and photography
Lush Tropical Environments
Expansive floodplains
Vibrant tropical rivers
Colourful broad savannah
The landscapes of Northern Australia are not only visually astounding, they are accessible for your exploration
We offer our tour groups various ways to enjoy our Top End, comprising of Kakadu, Katherine Gorge/ Nitmiluk and Litchfield National Parks, and Arnhem Land. Our Top End Adventures include:
Hiking, swimming and canoeing
Wild wetland experiences
Overnight stays and 4WD adventures
Imposing dramatic rock formations
Indigenous rock art and cultural exchange
We will guide you through an immersive, fun & educational experience
Exploring and hiking Kakadu and the Arnhem Land Plateau
Viewing the greatest and most artistic collection of Indigenous Rock Art on our planet
Understanding Aboriginal lifestyles and customs spanning over 60,000 years in these environments 
A journey that traces the evolution of our tropical north through rich prehistory to the present day
Stunningly unique dramatic landscapes
Incredibly rich and diverse environments
Off the grid remote overnight stays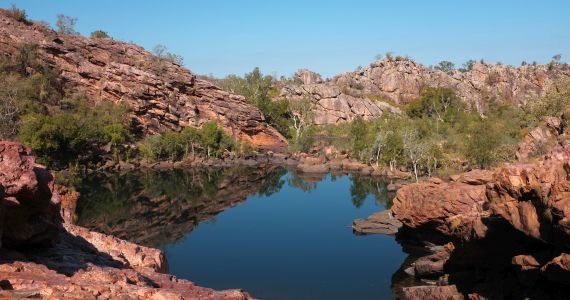 Some typical Charter North daily tour experiences 
Cruising vast wetlands that resemble the African Everglades while viewing the creatures that inhabit these very unique environments 
Hiking and exploring globally renowned features such as Jim Jim Falls, Twin Falls, Maguk, Gunlom, Ubirr and Nourlangie Rock
Escaping to the more remote and less visited areas of Kakadu and our Tropical North while experiencing the history and mystery of its stunning habitat diversity
Exploring the Top End's dramatic landscapes by air, land and aquatic expeditions
Retreating to a bush camp or eco-accommodation while relaxing and absorbing the tranquillity
Explore Australia's Top End
The northernmost part of Australia's Northern Territory is commonly referred to as the 'Top End'. Renowned for its tropical lifestyles and environments, the Top End offers a huge variety of landscapes and experiences to visitors and locals alike. From waterfalls, wetlands, savannahs, and dramatic sandstone plateaus with deep gorge systems and towering escarpments; this incredibly diverse landscape continues to support what is thought to be the oldest surviving indigenous culture on our planet. Aside from being Australia's largest terrestrial National Park, Kakadu is regarded as one of our most important World Heritage sites for the protection of its outstanding natural and cultural values. Our Top End Tours also include two of the Northern Territories most popular National parks; Litchfield and Katherine Gorge (Nitmiluk). Each of these parks is very different and an attraction in their own right, however, the best way to experience the Top End is on a continuous 4WD experience incorporating the best our northern paradise has to offer.
Litchfield measures around 1,300 square Kilometres, and we refer to it as our aquatic playground. Comprising of great waterfalls and rock pools reached by shorter walks, the park offers a safe, fun swimming environment.
Katherine Gorge is another uniquely stunning attraction of the Top End, displaying a deep, dramatic gorge system that can be explored by watercraft and viewed from a chopper. Comprising of 13 gorges in total, the first four gorges of the system are accessible to the visitor via a canoeing expedition or a guided boat cruise. Scenic helicopter flights can cover the entire length of the gorge complex.
To ensure you experience the true value and spectacle of our Tropical North, Charter North 4WD Safaris will plan and deliver your ultimate Kakadu Tour & Beyond adventure
Charter North 4WD Safaris have an intimate understanding of Australia's Top End through a personal and professional relationship spanning 28 years. Our continuing connection to country allows us to create your memorable Northern Australian Safari.